Professional Backline Equipment & Instrument Rental
Everything you need to streamline your next music festival and keep musicians playing – Serving the Greater Twin Cities Metro.
If you're organizing an event with multiple bands or hosting an act from out of town, you need backline equipment to keep every rhythm section player happy and heard. A well-organized backline makes it easy for you to quickly change the stage between bands or get your traveling act set up fast.
MystiQue Sound Solutions offers a full range of backline amplification and sound reinforcement equipment. We also rent backline instruments, including drum sets and keyboards. From sold-out arenas to music festivals held out in a field, MystiQue has your backline covered.
View our audio equipment available for rental below, and please contact us for a quote or to discuss backline needs for your upcoming special event in the Greater Minneapolis – St. Paul Metro area.
Backline Equipment Rental
MystiQue offers everything you need to kit out the backline for your next concert or band festival. From amps and speakers to organs, we rent and set up backlines for acts of all types. We only offer top-quality brands, including Fender, Pearl, Hammond, and Yamaha.
Ampeg SVT Classic Amp
SVT 810AV  Speaker Cab
Heritage  SVT-410HLF Speaker Cab
Fender Hot Rod Deville 4×10
VOX AC 30 C2X Celestion Alnico Blue Speakers
Pearl Master Custom Drum kit
DW Collector Custom Drum Set
DW 9700 Drum hardware kit
Hammond SK1-73 Organ
Hammond Leslie 3300
Yamaha P-250 Stage 88 note Piano
Drum sets can get complicated fast. MystiQue has the equipment and expertise to create the drum set your bands require. We can even set up two or more sets on rolling stages for quick changeovers between acts. We carry professional-quality drum sets from Pearl and DW.
Pearl Master Custom built in 1995
White translucent
Toms are fitted with R.I.M.S Pro Alloy isolation systems
22" Kick
10" 12" 14" 16" Toms
14"x6 ½" Snare
All DW 9600 Heavy Duty Hardware
Zildjian Cymbals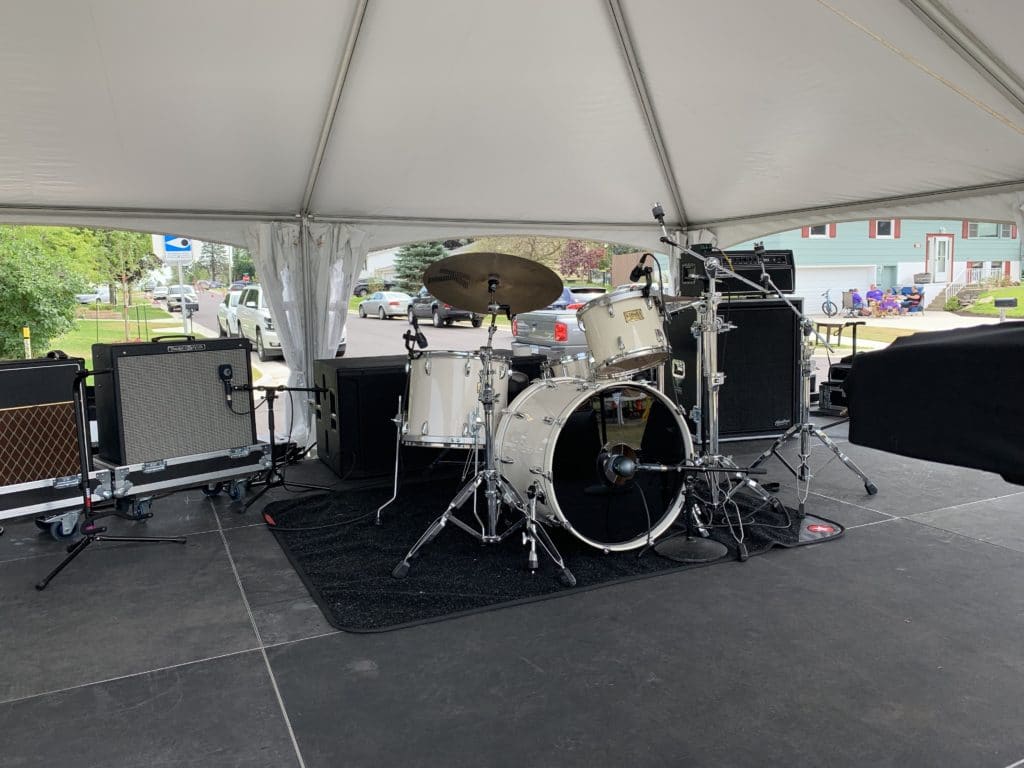 DW Collector Drum Set
Custom Mapa Burl
Toms are fitted with R.I.M.S Pro Alloy isolation systems
23" Kick
10" 12" 14" 18" Toms
14"x6 ½" Super Solid Snare
All DW 9600 Heavy Duty Hardware
Zildjian Cymbals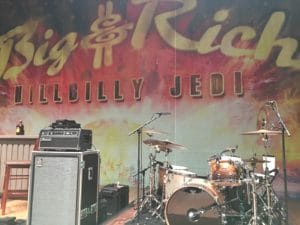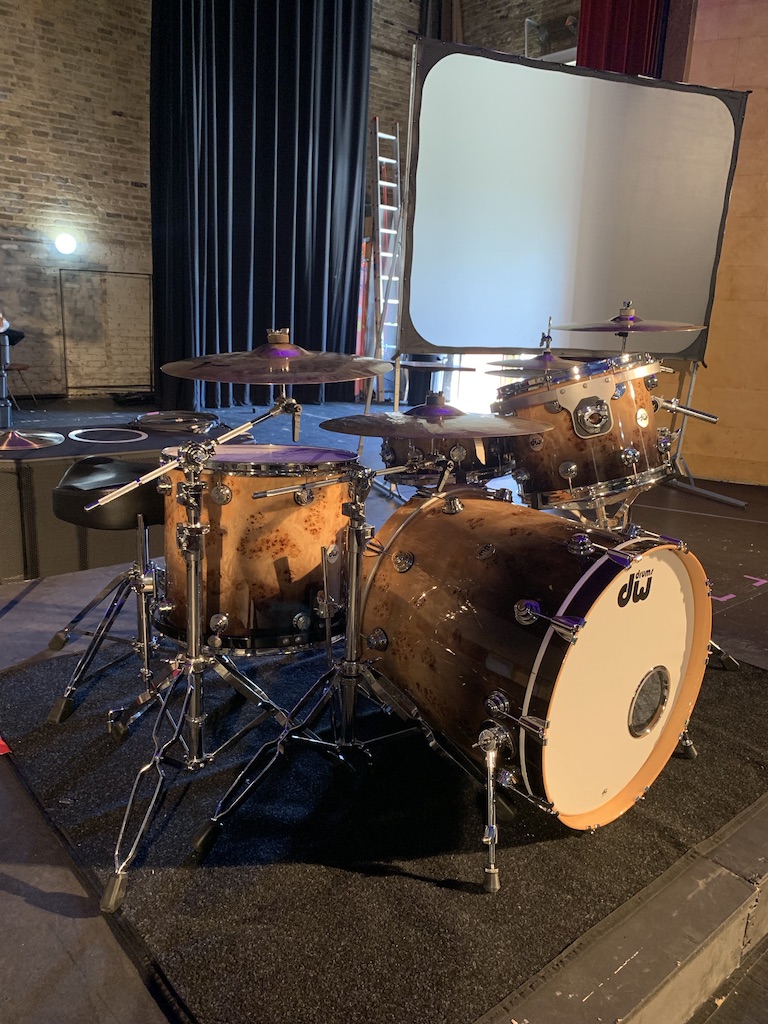 Guitar Amps can get complicated fast. MystiQue has the equipment and expertise to setup the amps your bands require. We carry professional-quality amps that will fit your needs.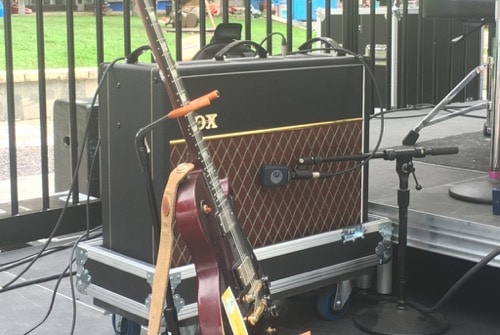 Vox Custom AC30CC2X 30W 2×12 Vox Alnico Blue Speakers / Tube Guitar Combo Amp Black
For those who crave more power, the AC30 expands on the captivating sound of its little brother by doubling the wattage. Employing a quartet of EL84 power tubes, the AC30 Custom pumps 30 watts of remarkable tone through a pair of 12" Alnico Blue speakers. Capable of both enchanting clean and raucous overdriven sounds, the signature chime of the AC30 Custom pairs seamlessly the intricacies of your playing style, resulting in a sound that is truly your own. Perhaps the most iconic amplifier in VOX's pedigree, the AC30 earned its place in history as the amplifier that powered the British Invasion. Since then, the AC30 has remained the choice of the world's most accomplished artists who have come to rely on its unique voice to amplify theirs.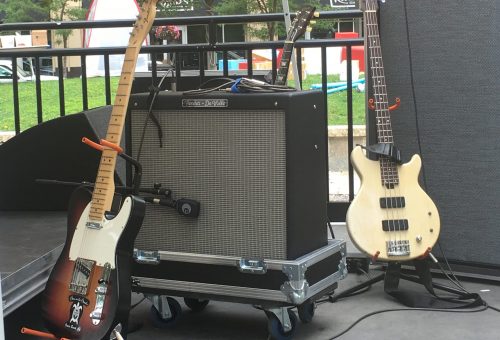 Fender Hot Rod Deville 4-10" speakers
Tube guitar amp
Supercharged Sound and Style
The standard for gigging guitarists worldwide and the ideal amp for crafting your own signature sound. Working guitarists everywhere prize no-frills Hot Rod amps for their great volume, reliability, responsiveness to effects pedals, and affordability. The Hot Rod DeVille 410 delivers all that and more, with a blistering quartet of 10" speakers, hot-rodded power and performance to spare, great features and a classic look.
Features
60 watts
Four 10" Fender® Special Design Eminence® speakers
Three channels (normal, drive, more drive)
Internal variable bias control
Effects loop, bright switch and Fender spring reverb
Two-button footswitch 
Bass Guitar Equipment Rental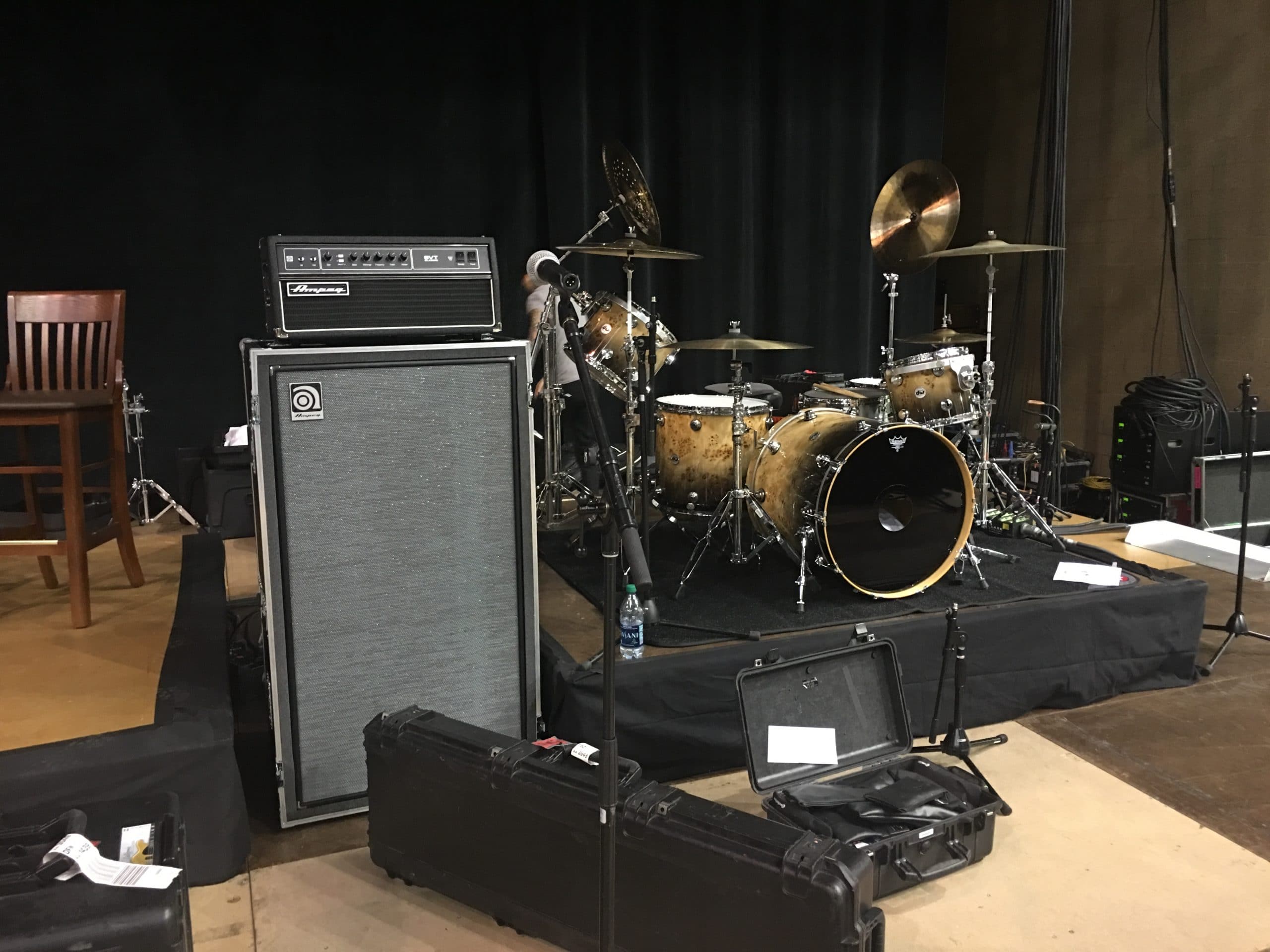 Ampeg SVT AV 8×10″ Bass Cabinet
The SVT-810 AV Infinite Baffle™ design has remained constant since 1969 and delivers the punchy, round sound that defines the Ampeg tone. The combined air-moving capability of eight 10″ speakers reacts faster to transients than fifteens or eighteens. The result is sound you can feel, that the audience can feel and that truly delivers what you want out of a bass rig. Simply put, the SVT-810 AV produces the vast amounts of tightly focused bass your band needs. In the world of high-performance bass cabs, the Ampeg SVT-810 AV stands tall and proud.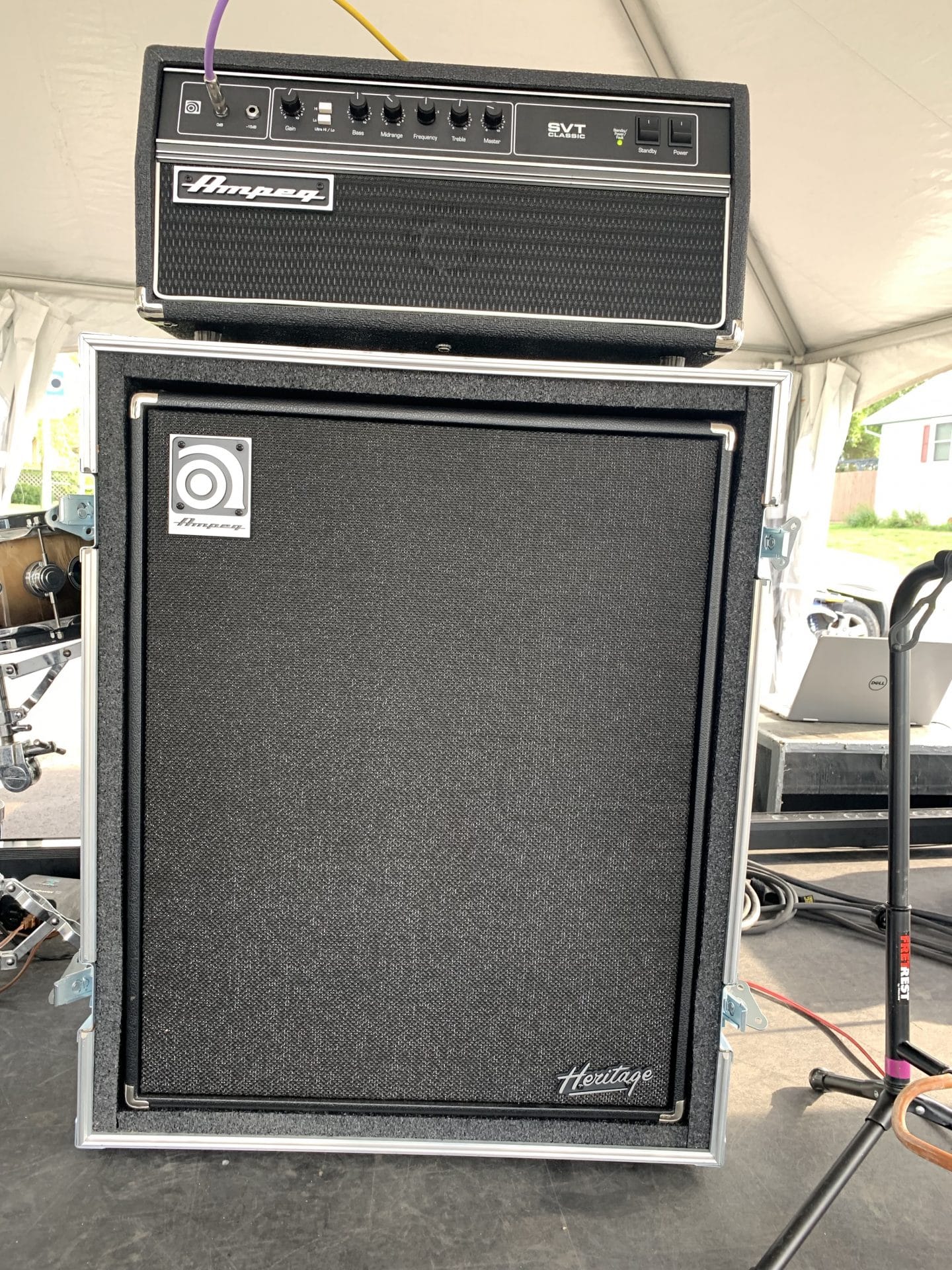 Ampeg Heritage SVT-410HLF
Designed and assembled in the U.S.A., the Ampeg Heritage SVT-410HLF is the ultimate in premium, full-range Ampeg tone via custom-made U.S. Eminence® drivers. Built to handle up to 500W, with portability to spare, the Heritage SVT-410HLF is the obvious choice for touring professionals and weekend warriors.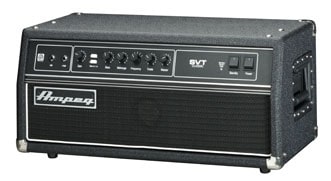 Ampeg SVT Classic Bass Amp Head
The harmonically rich sound and legendary performance of the Ampeg SVT are redefined in the SVT Classic. This dynamically powerful all-tube bass amp delivers a thunderous 300-Watts of unsurpassed quality, reliability and tonal flexibility. Although other companies have tried to capture the classic all-tube sound of '60s and '70s Ampeg bass heads, no one can touch the SVT.

Gallien Krueger 1001 RB-II Bass Amp Head
Unique Horn Bi-Amp system sends the high frequencies to the horn through a separate 50W amplifier. This has many advantages: The horn level is controlled from the front panel. The horn is not overpowered by the larger amp so failures are reduced. When the woofer amp hits the rails (growl) the horn stays clean.
Yamaha P-250 professional stage piano
Ever since the P200 was first released over 5 years ago, musical legends like Michael McDonald, Keith Sweat, Tim Carmon (Eric Clapton ), Clifford Carter (James Taylor), and Steve Hornbeake (Faith Hill) have used it on stage and in the studio when they needed the absolutely best piano sound available. Now Yamaha is proud to announce the next member in the legendary P series family of Professional Stage Pianos, the new P250. The P250 sets a new standard for sound quality and raises the bar on what to expect in a professional digital piano.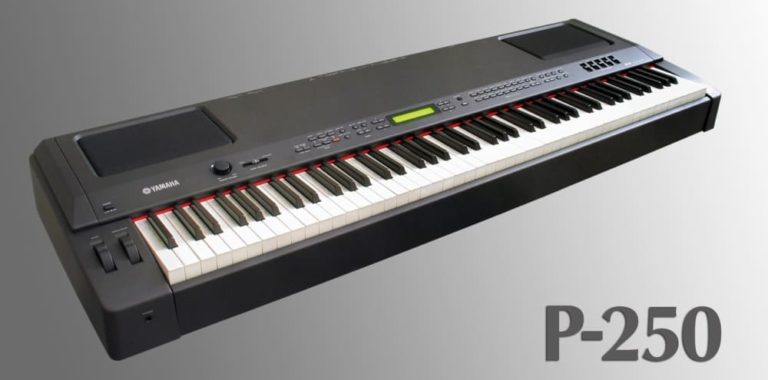 The P250 features three levels of Yamaha CFIII Grand piano stereo samples for dynamic selection according to your touch on the keyboard. The result is a delicacy of tone and expression that emulates the experience of playing a real piano. And to give the P250 an even more richly detailed sound, note off samples, string resonance samples and sound board samples simulate the acoustic interaction between different notes.
The sound is unmatched, and so is the touch, thanks to the GH (Graded Hammer Effect) keyboard. The GH keyboard uses weights and mechanical linkages to achieve an entirely new level of realism. And to go even further, the key weight is graded from heavier in the lower registers to lighter in the higher, exactly the same as a grand piano's.
To deliver the sampled instrument voices and 128 notes of polyphony with all the power and authority they deserve, the P250 features a new speaker system and high power stereo amplifier. The P250 features 16cm polypropylene woofers and a 30 watts per side stereo amplifier. The result is astonishingly lifelike power. The P250 redefines the features for a Professional Stage Piano including: Graded Hammer 88 Note weighted action keyboard for realistic piano 128 Notes of polyphony Acoustic Piano Voices with Three Velocity DSS (Dynamic Stereo Sampling), Note Off samples, String Resonance samples for realism and expressiveness 38 Panel Voices plus an extra 480 XG voices for a complete palette of sounds.
770 KB of Internal Flash Memory Digital reverb and digital effects, Dual mode and split mode, MIDI/TO HOST PC interface Built-in Speaker system with 13cm polypropylene woofers and 30 watts' stereo amplifier
Hammond SK1-73
"Hammond Sk-1?! This thing is a BEAST… It's classic drawbar tones combined with Hammond's new digital Leslie sim are the most authentic I have ever heard. It even sounds great in mono! From screaming Deep Purple to that flute-y Wallflowers thing – This is my go to for every gig I do. Add on top of that an arsenal of great sounding vintage keyboards and the ability to split them across the keyboard and you have yourself a 'One stop shop for rock'.. Oh yeah, did I mention it's only 15 lbs?"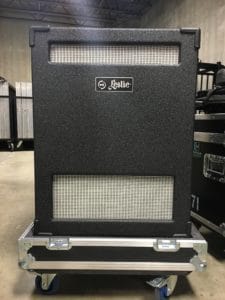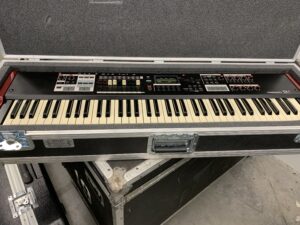 Hammond Leslie Portable
Model 3300
The Leslie 3300 is one of the most powerful Leslies ever offered, and has been designed with the professional touring musician in mind. This single-channel Leslie features a two-speed horn rotor coupled to our new heavy-duty design driver and a massive 15" woofer. Firing into the Bass rotor. The Leslie 3300 is powered by a 300-Watt RMS solid-state amplifier with a real vacuum tube preamp. 11-pin and 8-pin Leslie sockets allow connection and onboard control with Hammond Organs, Most other electronic organs and keyboards can hook up to the 3300 using a ¼" cable and common footswitch (optional). This Leslie features a rugged-built cabinet with high-impact black finish which is lighter than a traditional Leslie, and the heavy-duty casters will make it a snap to transport to your next performance