Pro-Audio Equipment
Top of the line equipment
MystiQue Sound delivers professional audio event production for live events, large or small. We collaborate with our clients to develop a sound reinforcement plan that ensures the highest quality event experience.
We offer a wide range of the latest in technology audio systems to accommodate your specific sound production needs. From concerts, to corporate events, to festivals, we will carefully plan for every detail of your event sound production.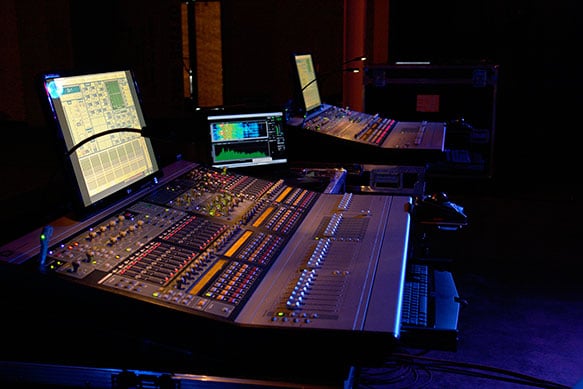 Examples of our production equipment:
Adamson – Full Line Array
Adamson T-21 Subwoofers
EAW/QSC – Tripod Speakers
Adamson, EAW, Bag End – Ground Stack
DigiDesign Consoles
Lab.gruppen Amplifiers
Backline Services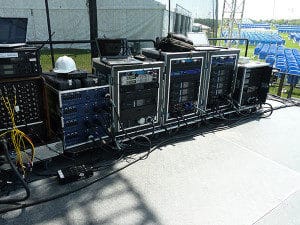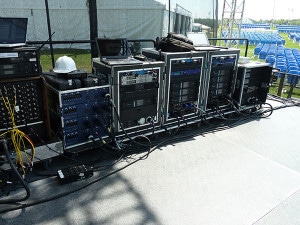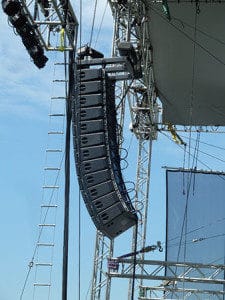 MystiQue offers a wide variety of sound equipment, lighting and staging solutions to accommodate any live event requirement.  Whether your event is large or small, indoors or out, MystiQue is the right choice for your production needs. We will provide well maintained, name brand, high quality equipment for your next event.  We take pride in the professional appearance of our equipment and believe this image is essential to the success of your production.  Our name brand equipment includes premier products from renowned companies such as Adamson, DigiDesign, Lab.gruppen, EAW, Blizzard Lighting, Staging Concepts and more. Following is a sample equipment listing.  If you are looking for something else that you do not see here please contact us
CONSOLES
DigiDesign Profile FOH 48×24
DigiDesign Profile Mix Rack 48×32
DiGiCo SD 11i 40×16 with Waves
DiGiCo SD 9
SoundCraft SI Compact 24 24×16
SoundCraft SI Impact 32x16
Soundcraft MFX 12ch
Yamaha EMX 16ch
DiGiCo SD 9
Midas Verona 48 x 8
Allan & Heath GL2800M 48×16 monitor desk
Allan & Heath GL 3300 32×8
MAIN SPEAKERS
Adamson Y10K Line Array
Adamson T21 Subs
EAW KF 650z Hi Packs
EAW SB 600z Subs
EAW LA215
JBL VP 7315 DSP Crown Powered 3 way speakers
JBL VP 7118 DSP Crown Powered 18" sub woffers
JBL SRX828P
Bag End AF1A-R's
QSC powered HPR 122i's
MONITOR SPEAKERS
Radian Micro Wedge 15"/2" bi-amped monitors
EAW LA215's
AMPLIFIERS
Lab.gruppen fp+9000's
Lab.gruppen fp+10,000Q's
Lab.gruppen fp+13,000's
Lab.gruppen fp 2600's
Mackie 1400
Mackie 2600
PROCESSORS
XTA 424 Processors
XTA 224 Processors
EAW UX8800 4×8 crossover
TC XO-24 crossovers
PLAYBACK AND RECORDERS
Avid Protools Mac Pro
Tascam CD RW 5000 rack mount CD recorder
Tascam CD160 MKll rack mount CD player
MOTOR HOISTS
StageMaker one-ton chain hoists
Motion Labs Motor Controller
Applied Technologies Motor Controllers
Applied Technologies Truss systems
Genie ST-25 Lifts
Genie ST-20 Lifts
Applied Mini Line Array Towers (Black)
Applied LS 16 Truss Hoist
EQUALIZERS
TC EQ Stations
TC Motofaders
WIRELESS
Audio Technica 5000 series w/ 5400 large capsule wireless mics
Audio Technica instrument packs for Lavalieres or guitars
Antenna distribution network
Shure ULXP4 Wireless Rack
 STAGING
Staging Concepts SC90 platforms – 8×4 and 4×4 platforms
Staging Concepts fixed leg sets 8"- 32"
Staging Concepts telescoping adjustable leg sets 8" to 36"
Staging Concepts SC9600 supports – 4' foot to 6' foot stage height
Staging Concepts SC100 under structure supports 2' to 3. 1/2' stage height
Staging Concepts IBC and 2-Line Railing Systems
Staging Concepts Wheel Chair Ramps
Staging Concepts adjustable Stair cases 2' through 6'
Staging Concepts fixed 3' Stair cases 4 ' wide with railing systems
Staging Concepts Crowd/Crash Barricade
MICROPHONES
Shure:
KSM 32
SM 57's
SM 58 w/switch
Beta 57's
Beta 56's
Beta 58's
Beta 52's
Beta 91
Beta 91 A
Beta 181
Audix:
SCX 25's
OM7's
D6's
TR-40
Beyer Dynamic:
Audio-Technicia:
ATM 33R's
AE 2500 dual element
AE 2300 Cardioid
ATM 250
AE 3000
ATM 350cw
ATM 450
ATM 831R lavaliere mics
BP 892cL4 MicroSet
AKG:
Sennheiser:
MD 421's
E609
E901
E904
E906
IEM G3 in ear monitor system 8 channel W/antenna package
DI's:
Radial JDI's
Radial Stereo JDI's
Radial J48's
Radial USB Stereo DI
Radial JPC computer DI
Radial JDX Amplifier DI Box
AUDIO DISTRIBUTION:
Radial V12 snake 48×10 250' snake main and 50' ISO split with W4
CBI 24 channel in ear splitter
Conquest 32×8 100'
Radial 12 channel snakes 50'
Whirlwind Press Box Press Mite 12
Whirlwind Patch Master Stage Snake System
LIGHTING AND CONTROLLERS
Road Hog 4 Intelligent Controller
grandMA Lighting Console
Blizzard LED Lighting
Moving Lights
Lasers
Hazers
Co2 Jets
Confetti Cannons
LED Strobe Lights
Atomic 3000 Strobe Lights 208v
POWER DISTRIBUTION:
2-TMB Pro Power 225amp 3 phase Cam locks 200' 2/0 and tails
1-Motion Labs 100 amp single phase Cam Locks 100' 2 gauge and tails
Like what you see? Contact us and let us know how we can help you with your event.
Contact Us to Discuss Your Backline Needs
MystiQue Sound Solutions, Inc.
680 Hale Ave N, Suite 270
Oakdale, MN 55128