Earlier this month, MystiQue Sound Solutions had the honor of providing audio, staging, and live streaming support for the 9-11 20th Anniversary Remembrance ceremony at the Minnesota State Capitol. The solemn occasion included remarks from family members of Minnesotans who were lost on September 11, 2001, as well as Governor Tim Walz and US Senators Amy Klobuchar and Tina Smith.
The organizers chose MystiQue Sound Solutions as their provider because our holistic approach meant we could handle the entire production, from audio, staging, LED walls, tenting and live streaming.
Here's a look at how we supported the 9-11 20th Anniversary Remembrance ceremony.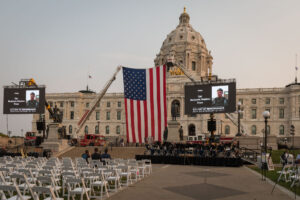 Setting the Stage
MystiQue Sound provided the dais for the ceremony's speakers as well as the large LED wall screens that projected the video of speakers as well as the photos of the Minnesotans lost on September 11. We also erected tenting and placed chairs for participants and staging for our video crew, who was filming the ceremony for live stream. Once the staging and video screens were in place, our team set up the professional audio equipment for the speakers and the bands that played during the ceremony.
Professional Audio Production
The audio and video both fed back to our command center, where our engineers managed the live feeds. To provide a high-quality live experience as well as an exceptional streaming experience, MystiQue had one engineer focus on the live stream and another focus on the live event. This ensured the live and online audiences were both able to see and hear the speakers.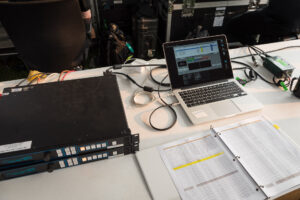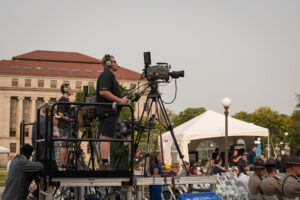 A Morning of Special Moments
The event took place on September 11 and included moments of silence to honor the victims of those killed when Flights 11, 175, 77, and 93 crashed. The drum group Spirit Boy from the Red Lake Nation performed a Veteran Song, and an orchestra played Amazing Grace. Speakers shared the stories of the people who were lost twenty years ago.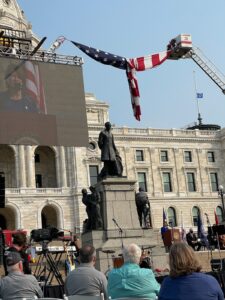 One of the most poignant moments occurred as the readings were wrapping up. St. Paul and Minneapolis fire department ladder trucks stood behind the stage with a large American flag strung between their buckets. As emcee Tom Lyons thanked the speakers, the wind wrapped the American flag around itself until the flag made the shape of an angel, a moving conclusion to the stories the speakers shared.
MystiQue Sound Solutions was honored to support Minnesota's ceremony to mark the 20th anniversary of 9-11. For more information on the event or to learn more about how we supported the event, contact MystiQue Sound today.